Siegbert Maier was born on November 17, 1927 in Nürnberg. He was the only child of Else (Scheuer) Maier and Hugo Maier. The family moved back to Else's family home in Bad Soden when Siegbert was four years old. Else owned part of the family business "Scheuer OHG" and Hugo was a salesman.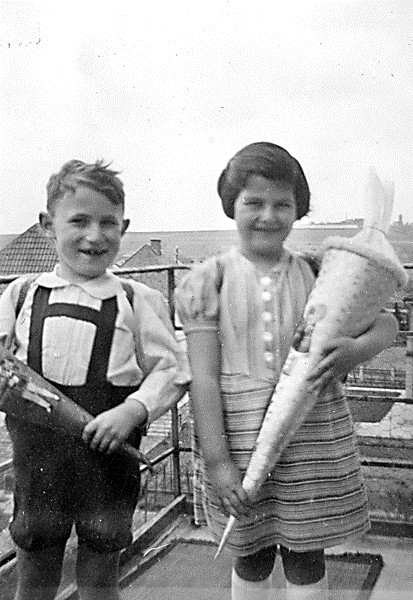 The photo shows Siegbert together and acquaintance, Hannelore Strauss, on the first day of school. Siegbert was handicapped. Nothing more is known about his affliction, nor about his school days.
Hugo Maier died in December 1935 in Bad Soden from unknown causes. The persecution of Jews in Bad Soden, that played a leading role for the Nazis in the area, was getting worse, so Else and eight-year-old Siegbert left Bad Soden in 1936 and moved to Frankfurt.
Life in Frankfurt was not easy. All of the family's money was seized and access to it was strictly regulated. They were allowed to take out just 300 Reich marks a month for living costs. Anything after that, for instance, 48 Reich marks for her handicapped son's therapy or 25 Reich marks for his schooling had to be applied for.
Frankfurt started deporting around 10,000 Jews from Frankfurt October 19, 1941, according to membership lists put together by the Jewish community. A deportation especially for younger Jews was planned for June 11, 1942. Rumours about the deportation and its consequences swirled around the city long before its occurrence.
On June 14, 1942, shortly after 12 noon, Else and her son Siegbert were found unconscious in their apartment. They were brought to the Israeli hospital. Siegbert passed that day and Else the day after. Else and her son were interred in the Jewish cemetery in Frankfurt.
His last voluntary place of residence was in Bad Soden in Taunusstraße 10 (which is now Am Thermalbad 10).