Despite the resistance of the authorities to an independent Jewish community in Bad Soden, the local Jews began the project of creating their own prayer house for Bad Soden and for the Jewish spa guests in 1846. They received financial support from many Frankfurt spa guests and patrons. The left half of the house at Neugasse 2 belonged to the community member Lazarus Mayer and was to be transferred to the Jewish community after the synagogue was completed. However, the authorities delayed this until 1849, by making the approval dependent on the dissolution of the Kultusverband with Niederhofheim, which proved difficult.
The prayer room in the new synagogue was 36,60 square metres in size and almost 6 metres high. It probably had room for about 40 men on 10 benches and had a women's gallery.
The 2,50 m high and 1,35 m wide round-arched window in the gable wall (north side) is no longer present in the photo above left. On the east side of the synagogue (facing away from the street) was the Torah shrine. The reading desk was in the centre of the room, as is customary in Orthodox prayer houses. Renovation and restoration work was carried out in 1893 and 1927/28.
The synagogue at Neugasse 2 was in use until it was desecrated and destroyed during the November pogrom of 1938. Nazis vandalised the prayer hall, demolished the windows and burned furnishings and Torah scrolls in the open street. Because the right half of the semi-detached house was inhabited by the non-Jewish Neuhaus family, no fire was set in the building in accordance with the Heydrich order.
Paragraph 1.a. of the Heydrich telex Blitz Munich 47 767:
"Only such measures may be taken which do not endanger German life or property (e.g. synagogue fires only if there is no risk of fire to the surrounding area)."
The building became the property of the local community. In 1960 it was sold and misused as a painter's workshop and storage room. In 1971, the town bought back the dilapidated house, which was demolished in 1981 and built flats for senior citizens on the site.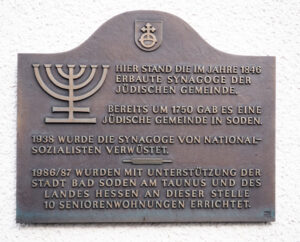 Since 1987, a memorial plaque on the wall of the house commemorates Bad Soden's Jewish community and the fact that in November 1938 their place of worship was vandalised, desecrated and destroyed by a mob.
Inscription on the Memorial Plaque
The Synagogue of the Jewish community, built in 1846, stood here. There was already a Jewish community in Bad Soden around 1750. In 1938, the synagogue was destroyed by Nazis. In 1986/87 with the support of the town of Bad Soden am Taunus and the federal state of Hessen, 10 flats for senior citizens were built on the site.