In Bad Soden many people hoped to get cured from lung diseases, especially from the spreading infection of the deadly tuberculosis. For poor people, this was out of reach, and so an initiative for founding a Jewish clinic, especially for poor Jewish people. By a donation from the von Rothschild family of Frankfurt in the 19th century the clinic was founded and supplied.
At that time, Bad Soden was a hot spot for Nazis. They were not pleased by the initiative, and therefore on behalf of the pogromes on November 10, 1938 at about 15 o`clock all patients, doctors and nurses were expelled from the clinic, the building raided and inflamed, and the fire brigade hindered to save the building.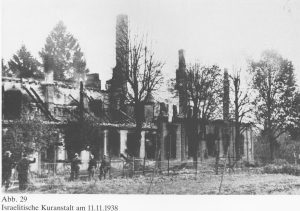 In remembering this pogrome on 10.11.2020,15 o'clock a Stolperschwelle for patients and employees of the clinic prosecuted by the Nazis will be laid on the historic spot.
The last address chosen voluntarily by the patients and employees of the Israelitische Kuranstalt was on Talstraße 12-14, 65812 Bad Soden am Taunus.
Inscription
ISRAELITE HEALTH RESORT OF BAD SODEN 1889 TO 1938
IN MEMORY OF THE VICTIMS OF NATIONAL SOCIALISM
PATIENTS, DOCTORS AND STAFF
DISCRIMINATED, DISMISSED, EXPELLED, PERSECUTED, MURDERED
The date chosen for the ceremony was 10 November 2020 at 3 p.m., the time of the pogrom.
How can you distinguish between a Stolperschwelle (stumbling threshold) and Stolpersteine (stumbling blocks)?
Where there is not enough space for many Stolpersteine or where the "dimension of every imagination would be blown up" (quote Gunter Demnig), a Stolperschwelle is recommended.

What happened can thus be documented in a few lines. According to Gunter Demnig, there are currently about 25 Stolperschwellen. Because this is about commemorating the many people who were forcibly abducted from the Israelitische Kuranstalt at Talstraße 12-14 in 1938, the Bad Soden AG Stolpersteine decided not on individual Stolpersteine (stumbling stones), but on a Stolperschwelle (stumbling threshold).
Obstacles to the laying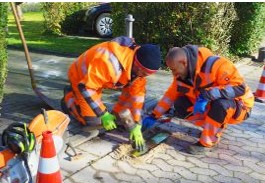 Due to the renewed Europe-wide increase in Covid 19 infected persons, Gunter Demnig cancelled the date for the November ceremony, but agreed to the laying of the Stolperschwelle by employees of the Municipal Maintenance Department. Since the planned commemoration ceremony with Mayor Dr. Blasch had to be cancelled for the time being due to Covid 19 pandemic, the press report with photos of the laying and a lot of information, which was published on 10 November 2020, was what the AG Stolpersteine was able to responsibly initiate.