In Bad Soden many people hoped to get cured from lung diseases, especially from the spreading infection of the deadly tuberculosis. For poor people, this was out of reach, and so an initiative for founding a Jewish clinic, especially for poor Jewish people. By a donation from the von Rothschild family of Frankfurt in the 19th century the clinic was founded and supplied.
At that time, Bad Soden was a hot spot for Nazis. They were not pleased by the initiative, and therefore on behalf of the pogromes on November 10, 1938 at about 15 o`clock all patients, doctors and nurses were expelled from the clinic, the building raided and inflamed, and the fire brigade hindered to save the building.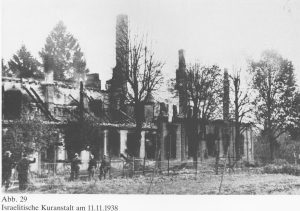 In remembering this pogrome on 10.11.2020,15 o'clock a Stolperschwelle for patients and employees of the clinic prosecuted by the Nazis will be laid on the historic spot.
The last address chosen voluntarily by the patients and employees of the Israelitische Kuranstalt was on Talstraße 12-14, 65812 Bad Soden am Taunus.