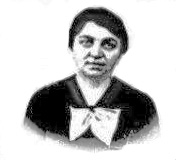 Rebecca was born in 1884 as the daughter of the cantor David Kallner in Merchingen. In 1899, the name of the fifteen-year-old appeared on the passenger list of the Fürst Bismark (No.7). Rebecca, probably determined and independant at a young age already, travelled to her relatives in Chicago without her parents, where she later earned the title of Doctor of Dental Surgery (DDS). By 1909, about 45 women had received this title (of a female dentist).
In Germany, women were still denied access to universities at that time.
In March 1910, Rebecca married Ignaz Aron, a factory director from Frankfurt, who was 5 years her senior. From 1911 on, the couple lived in Bad Soden, where Ignaz Aron became a partner in the G.m.b.H. Villa Aspira, founded by his brother-in-law Dr. Adolf Kallner.
In April 1930, the Arons' childless marriage was divorced. Rebecca Aron took her maiden name Kallner again. In the same year, an entry is found in the Frankfurt Address Book (in the section for Bad Soden).
This clarifies that Rebecca Kallner initially remained at Niederhofheimer Str. 3 after the divorce (she was still registered there in 1931, but without Ignaz Aron) and
that she worked as a dentist.
In 1932, Rebecca Kallner moved to Villa Dietrich (Hauptstraße 3) and remained there until she fled in autumn/winter 1937. At that time she was listed in the Frankfurt Address Book as a dentist (DDS).
Her divorced husband Ignaz Aron died of senile dementia at the Municipal & University Clinic for the Mentally & Neurologically Ill in Frankfurt-Niederrad on 15 April 1933 aged 54.
Rebecca Kallner arrived in New York on board the Paris on 1 January 1938. According to her information given in the USA, she set off from Southampton (GB) to New York.
The Stolperstein for Rebecca Kallner in front of her last freely chosen place of residence at Hauptstr. 3 (today Zum Quellenpark 3) has been accepted by the Gunter Demnig office and the setting is projected for May 2022.
She died on 10 October 1971 in Hillside (Chicago).