The Stolpersteine are an art project by the Cologne-based artist Gunter Demnig, which he began in 1993. Its aim is to keep alive the memory of the persecution and extermination of the Jews, the Sinti and Roma, victims of political persecution, Jehovah's Witnesses, homosexuals, and euthanasia victims under the Nazis.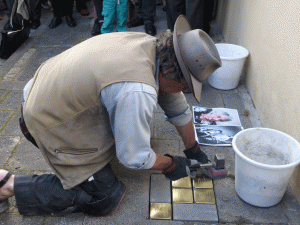 "On the Stolperstein the victim gets back his or her name; each victim is represented by their own unique stone – the identity and the fate, if known, can be read."

"Those who want to read the name of the victim had to bow down. In this moment, they will have bowed down before the victim."
(Gunter Demnig)
To this end, Gunter Demnig sets brass Stolpersteine in the pavement in front of the last place of residence chosen by the Nazi victims themselves.
There are now STOLPERSTEINE in 1265 communities in Germany and the project continues to grow. However, his work of remembrance is not limited to Germany. Gunter Demnig has already set stones in twenty-one European countries.